Sexy Legs and Feet in High-heels - Perv's Club (http://www.gaborgirls.net/wbb2/index.php)
- General Stuff (http://www.gaborgirls.net/wbb2/board.php?boardid=5)
-- Responsible rating, please! (http://www.gaborgirls.net/wbb2/thread.php?threadid=5514)
---
Posted by LaFey on 06-20-2009 at

15:25

:
Responsible rating, please!
Allow me a comment if you would:
I was a bit peeved by Leglover thumbing down Blimpo's post in the Personal Pics and Indoor Shots area. When you are posting for the first times, which is the case with him you have to get moderate support from people with a bit of responsibility - after all I think we all want our little "hobby" spread, eh?
Not many can play in the major candid league, such as Harry or Mr Gabor, but these "newbies" ought to be supported so they get more confidence and thereby get better results. We all profit from this.
So, even if you don't like the content of the pictures, try to appreciate at least the quality of the said picture, which is what I think it sensible to do when we are speaking of such a broad fetish: Harry likes red nails, I like them unpolished, you like pointy heels, I like wedges, etc, etc, etc.
Giving a blatant negative rating to a post with well taken pictures, with little grain, model in focus, just because you don't like the said model is unfair.
I won't deny that this comment was also triggered by recent votes on a post of mine, which by the way were presented in 2611px × 1958px, both in-focus and well illuminated. Everything I said above applies to this too.
So let hear some thoughts and please no flamming - it is just my opinion.
---
Posted by der-münchner on 06-20-2009 at

17:02

:

I'd underline your comment in every detail. Hope we can do better throughout the forum in the future.

But that's the problem with ratings and comments. Most of them are not worth a single look, and the newbies willsurely be offended by these.

Think about that folks!
---
Posted by feetishist2004 on 06-20-2009 at

18:52

:
RE: High Heel Board not Flip Flop !!!
quote:
Originally posted by leglover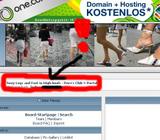 Should we be so narrow minded? I Don´t think so! Shur the board seems to meant as a high heels board mainly, but also as a foot board in general for all kind of feetishists as we all members are, each with his own preference.
I´ve seen a lot of posts in this board featuring low heeled shoes, some posted by the master himself: Mr.Gabor with the title "not high, but hot".
I think this is the main theme of this board: Feet! Isn´t it?
And it should be a tolerant board for all the candid hunters around this world, to share their work with all in our small foot- lovers community!
And for that i agree with "der Münchner" and "la fey" that it should be our aim to encourage newbies sharing their work with us.
And in this special case i strongly wondered about the rating, as the only three comments given on the original post were all positive!
I think it would have been fair by leglover maybe to give a hint to blimpo he should concentrate more on heels in the future instead of rating his post as bad and saying nothing!
And what´s even more: The post causing this discussion features some wedge sandals (Ok, these
are
flip flops, but heeled ones, aren´t they?)
Or we have to have a limit wich heel height at least has to be reached by the shoes to be allowed to appear on this board. But again i don´t understand this board that narrow minded!
---
Posted by mr_gabor on 06-21-2009 at

20:03

:

quote:
Originally posted by der-münchner
I'd underline your comment in every detail. Hope we can do better throughout the forum in the future.
But that's the problem with ratings and comments. Most of them are not worth a single look, and the newbies willsurely be offended by these.

Think about that folks!
o.k.
the rating rules are:
quote:
" i did change the board rating system, so everybody can see "who rated". so in the future i like to see only "rates" done by members who support this board - every other "leecher or newbie" that does negative votes WITHOUT constitutive comment get BANNED !! - Members that does nothing (no own Pics or support work) have not (in my opinion) the right to judge about others !!!!
so a constitutive comment ? well everybody knows i prefer high-heels over Flip-flops (i hate flip-flops) thats my personal taste and this is NO rule, but maybe i should convince the flip-flops guys without negative rating just by posting pics like this
so which girl get a call for a date ?? the flip-flop teen ?? really ?
i think you know what i mean, there is no taste-police - but maybe a streetshooter who post "hotter Stuff"
cu
mr gabor
---
Posted by LaFey on 06-22-2009 at

00:10

:

In the end, like someone said, it all comes down to feet - the majority of us would prefer a nice pair of feet in a high heel than the same pair in flats. No question on that - but I've seen atrocious, uncared feet in high heels (which I happen to fantasize about to an extent) and beautiful, cared feet in flats. Well - it all depends, doesn't it?

What unites us all is that we like to shoot beautiful feet in beautiful shoes, when the model isn't aware, in everyday situations.

Ok, so what to do?

There are many hypothesis, which I'll

humbly

list:

1.

Change the rating rules in a way that people are

obliged to reply when they give any rating whatsoever

. I think that the majority of voters do reply afterwards, but anyway. Despite the fact that you reply or not,

replying when you give a negative rating (lesser than half the scale) should be mandatory along with a "positive, well-manered" explanation.

With the current rating rules we are only scaring potential candid picture takers away when they show what little they have to show. We are encouraging leeching each time we rate badly and without explanations. It is as simple as that.

2.

Enforce the High Heels only postings. Of course Gabor would have to define what high heels are and so on and so forth. But we'd be loosing significant part of the community.

3.

Keep the current rating system and create a specific area for shoes which aren't defined as valid for the board (i.e. everything other than high heels and whatever Gabor decides they are and aren't)

Now, on something more personal:

I've left the Mousepad due to zealotry of its members in general, which unfortunately I tie with the fact that 90% being American - anything from ridiculous criticism from people who didn't post anything and even fierce criticism from Administrators criticizing other people fetishes, as if they weren't themselves fetishists too. Typical "holier than thou" attitude. Fortunately Gabor_Girls isn't like that, and certainly I wouldn't want it to be.

Just my 2 cents anyway.
---
Posted by slyder4040 on 06-22-2009 at

02:31

:

I have been a member here for a long time, i have seen some real good stuff and bad stuff based on quality of the picture, I have even seen negative ratings for stuff that did not deserve it. I do not rate many of the posts. comments yes. but when I see something that does not deserve a bad rating, i will usually give it a good rating to encourage more to post.

Living in florida, I could provide so many flop shots that it would get old, I dont take many of them as I, Like mr. G. hate them. But I will not rate something on my opinion of what others like or dont like,

This is the best board for candid feet. I like to see the real thing in action as feet are meant to be used for. Not the crap pay sites have where all the shots are sole shots while the girl lies on the bed with her feet up in the air. Remember this is candid, it does not have to be always heels, it can be others. We all have different preferences and we need to respect each other on that.

One note to put into perspective, for those guys with wives or girlfriends...do they were heels 24/7, mine does not. but it does not mean i dont look when she is wearing flops.

just my 2 cents or euros, which ever you prefer.

GREAT JOB TO EVERYONE WHO POSTS TO KEEP THIS BOARD AS MY LONGEST RUNNING BOOKMARKED SITE!!!
---
Posted by der-münchner on 06-23-2009 at

00:05

:

So, I suppose we all could come to an end, despite Mr G who's got some work now.....
But every thread is useless without some pics, so let me give my comments about the posts:
1st: Grappa Tasting: Would you really care about their feet or shoes? Na?
Wouldn't you be too sad by missing these asses?
2nd: Almost pefect, though she hurt her feet during the hard days of the fair
3rd: what about a real close up, almost to near...more shoe than foot...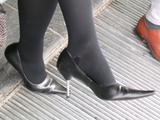 4th: Hm. Painted nails, feet, tattoo, high heel, fetish time?
Your choice!
5th: Naughty white panty under a DROPPY catsuit.... no foot or shoe, but do you really care?
6th: No feet and I didn't like the boots, but HEY some butterflies on a bright day in spring!
of, I forgot the legs and nylons.....
7th: AND Without looking at everything I certainly missed this 11 points out of ten great ass of the year 2009.
As you see, something for everybody and I have been hunting for heels day after day, but I don't want to withhold you pics like these.
And I'm totally agreeing with LaFey and Slyder.
my note would be to separae the sections into different kinds of pics (feet and soles, high heels, biits, mules, etc). i've talkd to Mr G a long time ago about that, but he didn't want to change. Sorry Mr G I don't remember your reasons, but that's o.k. because we won't forget, IT'S YOUR FORUM, we're all just contributors.
But for me the allocation will be for everybody the best way to see what everybody wants to see.
Cause I'm also really bored watching soles and flat shoes ( LEGLOVER you're not alone with your wishes) but I don't want to fend off the newbies, too.
CU
---
Posted by Harryrednails on 09-25-2009 at

12:19

: RE: Responsible rating, please!

Just my two cents...personally I´d ban anyone who leaves bad comments or gives bad ratings more than once or twice. Bad feedback is not only discouraging for newbies (the ones that contribute, not the ones that spam), but also makes a more experienced footographer think twice before preparing his next post.

I also agree that the shoe content (heels vs. flops) certainly makes a difference, but far more important is the quality of the photos, in my opinion. Funny example of how crucial the heel aspect seems to be to most here is my Soles -thread (see paparazzi section), only two thumbs up and even if I should arrogant saying this, those shots are better than majority of stuff posted here, when it comes to quality and detail.

My advice is: if you don´t like a thread, instead of giving bad rating or comment, just move on into something more appealing to you.
Forum Software: Burning Board 2.3.4, Developed by WoltLab GmbH